Shopping
1.) How to purchase products on gundam.my?
It is simple and we would love to guide our valued customer how to do it. Click on either gundam grade on the left hand side of the website, and then you will see the pages coming out with all the desired grade product coming out, if you notice carefully, there's an "add" Button on the same page as well, click on the "add".
You will see the gundam boxart image 'flying' to the top right of the shopping cart. Now the shopping cart has filled with products, with a button called 'Checkout', if you wish to continue shopping, just ignore the button, until you're satisfied.
Then finally, click on the 'Checkout' button, it will ask you where you would love us to send your item to. For Peninsula Malaysia, it is MYR 8 and for Sabah / Sarawak, it is MYR 12. After you choosen the courier service, you're invited to filled in the postal information, and your contact data, you can select either payment method.
After pressing on the 'Proceed to Payment', you will be given alot of choice of payment method. Filled in your information, and finally you will receive an order email consists of product ordered summary information on your e-mail account.
2.) Is there any easier way for me to avoid filling up the check out form again & again?
Yes, there is, did you notice we support facebook account login?
After login you will be presented with several menu including updating your profile. You may click on 'update profile' to filled in the blank for the automated form filled in to avoid the tedious task again. You may login and try it out.
3.) Where is your shop that I can view the products?
Gundam.my is presently an pure Internet retailer without a physical store. We do however have a counter for self collection (after customer order online) around Klang Valley.
4.) How do I know if your company identity is true?
This is a simple task, you can query our company registration no. identity by using Malaysian's local .my Registry Administrator's Panel, .my whois panel
here
.
Key in 'gundam', select '.my' and press 'submit' to get our company registration no information. We hate fake sellers, and did our part best to try stop them by educating buyer how to verify their existance, and fokes, for public advertisement websites, kindly think twice before approach them, by browsing their company profile, call to make sure they exists. Those, without company profile, doesn't answer to e-mail / handphone messages / company addresses / is very trading-risky, in common sense.
Shipping
1.) How can I ensure to receive the item after making payment?
Gundam.my is owned by a Malaysia registered company Greenomic Commerce (002099017-W).
All transaction is governed and protected by Malaysia business law.
2.) What is a tracking code /shipping code?
Tracking code /shipping code is a series of number passed over to consumer/buyer as proof of delivery status. Tracking code will allow you to keep track of your product whereabout. Sometimes, if consumer/buyer were away from delivery address, they will receive a re-mail notification from the courier service provider.
Consumer may call the courier provider to re-send them your products if needed. E.g. of tracking code would be: EN419441385MY. And as a part of our SOP, we will send a simple instruction e-mail to customer where they able to login to the website address to check their courier status. E.g. of courier status expected would be:
3.) How much is shipping?
To find out how much shipping will cost, add the items you are interested in, to your shopping basket. Note that in doing this, you are not obligated to purchase these products. When viewing your shopping basket, you will see an option called 'Check Out'. When selecting this option, you will be forwarded to the 'Shipping Information Page.' Please enter your shipping address and shipping method and your shipping charge will appear. After viewing your charge, select the cancel button to cancel the check out process.
- If you are in
Sabah / Sarawak / Borneo Island
- Please select 'East Malaysia' on the Shipping Information Page as shipping method.
- If you are in states
OTHER
then Sabah / Sarawak / Borneo Island in Malaysia- Please select 'Peninsula Malaysia' on the Shipping Information Page as shipping method.
4.) When will you send my orders?
Normally we will send your orders out the next day after receiving your payment by midnight 12am. Some items will be sent out on the 2nd or 3rd day after receiving your payment. However some items are back order or imported from oversea will take up to 2 weeks.
5.) What are the shipping options?
Besides the shipping method stated during 'Check Out', buyers can request other modes of shipping by mentioning in the instruction box during 'check out'. we will then reply with the rate by email
6.) What if the item you received is Damaged or Defective?
You can send us an email and report the damage. We will then guide you to return the damaged or defective items ,and we will make a new replacement to you. If the case, we fail to replace, we will give you a refund excluded postage. Processing your return usually takes 2 business days from the day we receive the return products.
7.) Will my gundam damaged during delivery?
Don't worry, we use special made paper box to ship your gundam (kindly refer to the photo below). So don't worry your gundam will damage during delivery.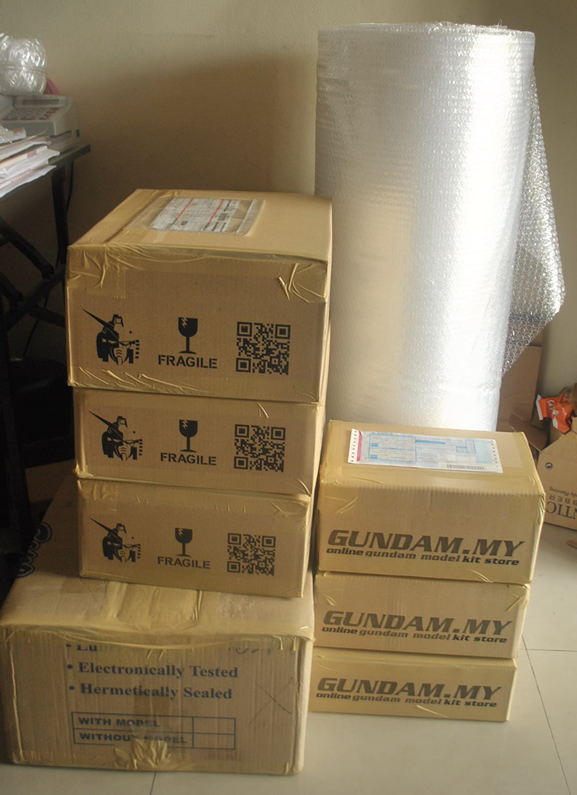 Product
1.) How do I build the gundam?
A Before Installation

Before Installation, please prepare the toolkit and read the image friendly manual book for easier installation later.

---

B Cut down the Parts

Follow the instruction on the manual book, cut down the necessary parts.

---

C Installation

After cutting down the parts, please follow the instruction manual book to install the part, make sure the attachment point of each part match.

---

D Stickers

Using the pliers can ensure the easier sticker process.

---

E Completion

Try different posing on the gundam, refer to the manual book picture as a reference. Take Picture.
2.) What marker are available for gundam modelling?
Gundam Marker Pen Type
There are 2 types of Gundam marker for painting and ink drawing and 4 types for weathering. Each type is designed for a special use, so the level of finish improves if you use them according to the different purposes they were intended for.
GUNDAM MARKER FOR PAINTING

The marker for painting uses good color smooth alcohol type paint, with a flat core pen point that is capable of painting everything from big open surfaces to tiny parts.
GUNDAM MARKER FOR INK DRAWING (ULTRA THIN PEN POINT)

The ink drawing markers are oil-based markers with an ultra thin pen point, which is used for painting engraved parts. It fixes really well and provides a realistic finish easily.
GUNDAM MARKER FOR INK DRAWING (WIPE OFF TYPE)

The ink drawing brush marker is most suitable for painting even finer engraved parts. The pen point is a brush type, and special water-based ink is used, so it can be applied on any kind of basecoat and paint run off can be wiped off.
GUNDAM MARKER FOR WEATHERING

If you want a realistic finish, you should use a weathering marker especially for weathering painting. This is a water-based marker, so you can weather the parts without affecting the base. There is a wipe off type and paint type available for a realistic finish.
GUNDAM MARKER FOR ERASURE

The eraser pen cleans up paint run off quickly just like a rubber eraser. By rubbing over the area run off, excess paint is dissolved and cleared.
Tips of Using Gundam Marker

1) Shake painting and weathering markers well with the cap on before usage.

2)When using for the first time or when ink does come out smoothly, press on the pen point. Be careful not to crush the tip.
3.) How many grade of gundam are there?
Payment
1.) Can we COD or Meet Somewhere to buy?
Sorry, we are operating as a Internet Shopping model, we don't have intention to go backward for COD and meet somewhere trade. If you don't trust us today. Please don't buy. Just come visit us our webstore from time to time until you feel comfortable and secure, then only you buy.

2.) Do you accept credit card?

Yes, we accept online credit card transaction. Please note that the Payment is process by Mobile88.com Sdn Bhd. The Name of Mobile88.com will be shown on your Credit Card / Bank Statement and you will also receive a notification e-mail from Mobile88 on the Transaction.

3.) If I bank in to your account, how do you verify my payment?

Well, valued customer can either give us a short messages to the site owner's contact number

018-988 2022, Mr. Lai

, or you could email us your payment information. Please do include information like orderid, payment amount, payment method, payment target bank (to which bank you banked in), and we will do the rest.





There are also some customer in the history did scan the bank-in slip and send the

e-mail

to us, both way worked. And, if you don't have an e-mail account, you can simply

Contact Us

the detail too.





More detailed instruction on payment method and payment options can also be found

here

.

4.) Do I get my balance back when I bank in more then order amount?

Yes, We will refund to you the balance you over paid in the parcel. For e.g. if customer is being charged for RM58.50 and he bank in RM60, the balance RM1.50 shall be delivered together with the parcel given back to the customer.